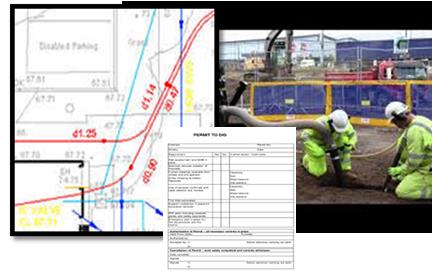 SCF Health & Safety Forum tackles construction site dangers
The Framework's Health & Safety Forum is committed to working together and sharing best practice across all SCF construction sites. Nationally the construction industry has become increasingly concerned about buried service strikes, which at their most serious, can cause fatalities. Following the successful forum workshop on Avoidance of Buried Services held in Bridgwater last year, the framework contractors have developed an interactive course and toolkit, 'Working Safely Around Buried Services Awareness'.
The course will be presented to all people working on SCF projects who may be breaking ground in the vicinity of underground services.
The requirement for this intervention was identified by supply chain companies who attended the Avoidance of Buried Services workshop. The partner contractors have listened to the framework's supply chain and used their combined tier 1 principle contractor experience to develop an awareness course with supporting material to help those at the coal face. The briefing will ensure a consistent approach to safe working around buried services on all SCF projects.
The first 'Working Safely Around Buried Services Awareness' course will be held on the St Peters Secondary School site, Bournemouth in July. The aim is to undertake training sessions at regular intervals throughout the course of live SCF projects to ensure all people are equipped with the right knowledge, equipment and support to break ground safely.
Mark Mortell, HSQE Manager ISG Construction, said, "Digging in the vicinity of buried services continues to present a significant risk to our workforce. Damage to underground services can result in death, injury or material loss. As a team of tier 1 contractors our objective is to strengthen our existing systems by working together to improve the competency of the workforce working on SCF projects."
https://scfframeworks.org.uk/wp-content/uploads/2017/10/buried_services.jpg
277
448
blaze
https://scfframeworks.org.uk/wp-content/uploads/2018/07/Logo.svg
blaze
2017-10-25 08:40:42
2018-07-02 08:41:36
SCF Health & Safety Forum tackles construction site dangers